Noida's Gold Rush: An Official Perspective!
Sep 19, 2023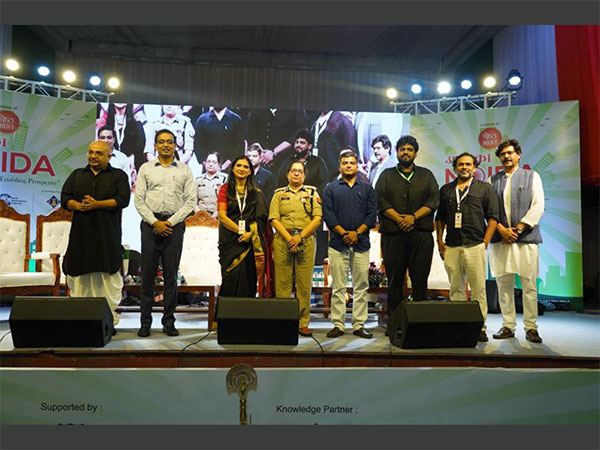 PNN
Noida (Uttar Pradesh) [India], September 19: Shrestha Bharat, the digital news channel headquartered in Noida's Sector 61, has taken a momentous step by introducing the 'Aaj Ka Noida' campaign. The primary objective of this campaign is to communicate the remarkable developments and transformations taking place in Noida to a national audience. To achieve this, Shrestha Bharat has partnered with key stakeholders, including Noida Police, Noida Authority, and Greater Noida Authority, along with notable figures from the city.
The launch event of 'Aaj Ka Noida' witnessed the presence of esteemed guests, including IPS Laxmi Singh, Noida Police Commissioner, IAS Lokesh M, CEO of Noida Authority, and ACO of Greater Noida Authority, Amandeep Duli, who graced the occasion as chief guests.
During the launch ceremony, Noida's Police Commissioner, Laxmi Singh, made a significant declaration, assuring the nation that Noida is no longer a city where people, particularly women, live in fear. In her own words:
"We're actively working towards enhancing soft skills and have initiated collaborations with local universities for this purpose. Additionally, we've taken a major step forward with predictive policing through the Geo Special platform, a pioneering project that can serve as a model for other states. If we can successfully implement predictive policing, it would be an ideal situation. In the past, CCTV cameras were primarily used post-crime incidents, but now we are proactively leveraging them to prevent crimes."
Speaking about the growth of Greater Noida, Amandeep Tuli, Additional Executive Officer of Greater Noida Authority, shared insights:
"Greater Noida covers an extensive area of 307 square kilometers and is home to 124 villages. We boast top-notch facilities, including world-class sports complexes and a host of amenities. Currently, we are witnessing a substantial influx of investments in the region. Effective marketing strategies are crucial for Greater Noida, and we are already utilizing various platforms for this purpose. Our economic situation is receiving overwhelmingly positive feedback."
Shrestha Bharat is broadcasting the 'Aaj Ka Noida' campaign on all major social media platforms, ensuring that it reaches every corner of the nation. The campaign's overarching goals include making Noida a secure city for women, eradicating cybercrime, promoting awareness about legal rights, and fostering a drug-free environment.


The central objective of this campaign is to change the prevailing mindset that "Noida Main Darr Lagta Hai".
The launch event featured captivating live performances by the renowned singer Manndakini Bora and internationally acclaimed sand art artist Nitish Bharti, adding a touch of enchantment to the proceedings. The highlight of the event was the unveiling of 'The Noida Anthem,' a musical testament to the rapid progress Noida has achieved, which received acclaim from our distinguished guests and garnered significant attention on social media platforms, amassing hundreds of thousands of views.


As part of this campaign, Shrestha Bharat and Noida Authorities will actively engage with the citizens of Noida through interactive events in schools, colleges, offices, and residential societies. Participants who actively contribute to the campaign will be rewarded at the conclusion of the initiative.
The 'Aaj Ka Noida' campaign is set to run for several months, featuring a diverse range of activities and social media campaigns. Noida residents can stay updated on all campaign developments by following our social media channels.
(ADVERTORIAL DISCLAIMER: The above press release has been provided by PNN. ANI will not be responsible in any way for the content of the same)